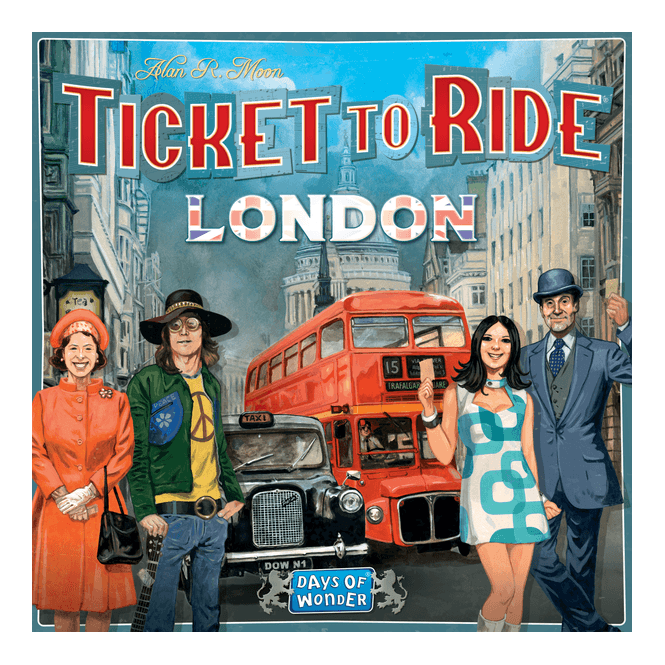 Ticket To Ride: London
Regular price
£19.99
Sale price
£17.99
Save £2.00
/
Tax included.
Shipping
calculated at checkout.
---
Ticket to Ride: London is a board game for 2-4 new and experienced players aged 8 years and over. Gain points by having the longest bus route through London's historic streets and fulfilling destination tickets. Destination cards will tell you which locations you should aim to connect, If you achieve this and reach your destination, you get additional points!
Ticket to Ride is a simple game to play, yet it still provides loads of fun. Starting with the youngest player, put your thinking skills to the test and keep an eye on your fellow players. Remember, if players cannot reach their destination they will miss out on points, so use this to your advantage. The player with the most points will become the winner of the game!
Ticket to Ride: London Gameplay
Find our simplified rules for Ticket to Ride: London below:
Players have three options to choose from: draw two bus cards, claim a route, or draw destination cards.
If you decide to draw bus cards, you can get these from the face-up cards or the top of the deck.
To claim a route, you must play a coloured set of cards equal to the colour and quantity of the route you are claiming. Place your buses and claim points depending on the length of your route.
If you chose to draw destination cards, you can draw three new ones and must keep one of them. These will give or take points at the end of the game as indicated by the number on the card.
When a player has zero, one or two buses left then each player gets one final turn.
The player who has the longest continuous bus route gets a bonus 10 points.
The player with the most points will win the game!
Game Components
Map of London
68 Plastic Buses (17 in each colour)
44 Transportation Cards
20 Destination Ticket Cards
4 Scoring Markers
Rule Leaflet
We offer a click & collect/ collect in store option from our Leeds store.
To use it simply select the pick up option on the checkout.
If you forget to do this and are given postage options click the return to information button to go back and select pick up.
Once we have received your order we will pick it and email you to tell you it's ready for collection.
The email will also contain up to date COVID information and opening times.