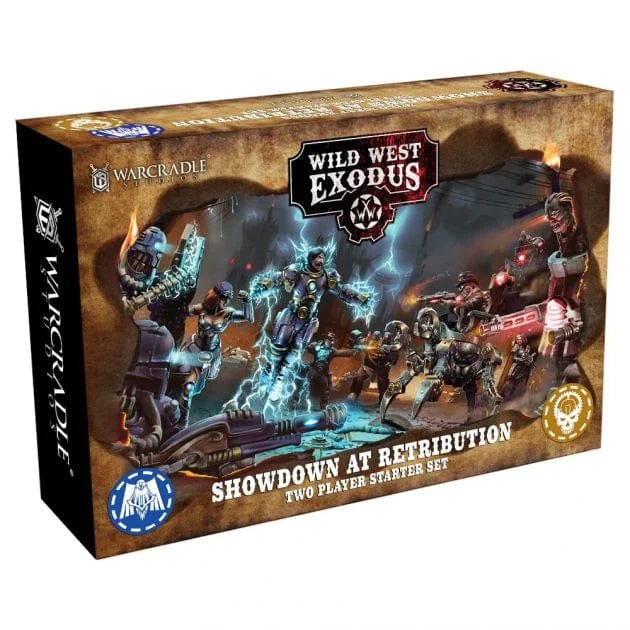 Showdown at Retribution 2-Player Starter Set - English
Regular price
£94.00
Sale price
£83.99
Save £10.01
/
Tax included.
Shipping
calculated at checkout.
---
The frontier of the Union of Federated States is a wild and often lawless place. Ideal for outlaws, renegades and zealots to prey on the locals. Now a force led by the morally bankrupt Enlightened scientist Gustave Eiffel has arrived in the town of Retribution. The mayor sends out a call for aid and is overjoyed to find that the hero of the Union, Nikolai Tesla is in the area. But as the Union forces pull into Retribution it becomes clear that this is no coincidence and all has unfolded to Eiffel's plans for vengeance. The stage is set for an epic showdown in Retribution between these two rivals.
Get into the new edition of Wild West Exodus with Showdown at Retribution - a two-player starter set designed to give you a comprehensive introduction to the savage Wild West in the Dystopian Age. Containing dozens of fantastically detailed Warcradle miniatures, the full third edition rulebook, quick start guide to help you get going straight away and much more - this hefty boxed set is an easy way to explore the game and start your hobby adventure.
The Wild West Exodus: Showdown at Retribution 2-Player Starter Set contains;
22x Highly details plastic Miniatures

14x Union

1x Nikolai Tesla
1x Carl Fredrickson
1x Union Belle
2x Iron Eagle
9x UR-31E Teslabot

These can be built with either Electro Batons & Shields or Electrocarbines

8x Enlightened

1x Gustave Eiffel
1x Smash & Grab
1x Emily Nouguier
2x Iron Horse
3x Mono-Cav

These can also be built as Strider-Cav

1x Rules
1x Quickstart Guide
1x Campaign Book
2x 48-Card Action Card Deck
2x 60-card Adventure Card Deck
1x Template Set
2x Token & Counters Set
8x Ten Sided Dice
Please note:
Miniatures are supplied unpainted and some assembly will be required.
Printed Materials are supplied in English.
We offer a click & collect/ collect in store option from our Leeds store.
To use it simply select the pick up option on the checkout.
If you forget to do this and are given postage options click the return to information button to go back and select pick up.
Once we have received your order we will pick it and email you to tell you it's ready for collection.
The email will also contain up to date COVID information and opening times.