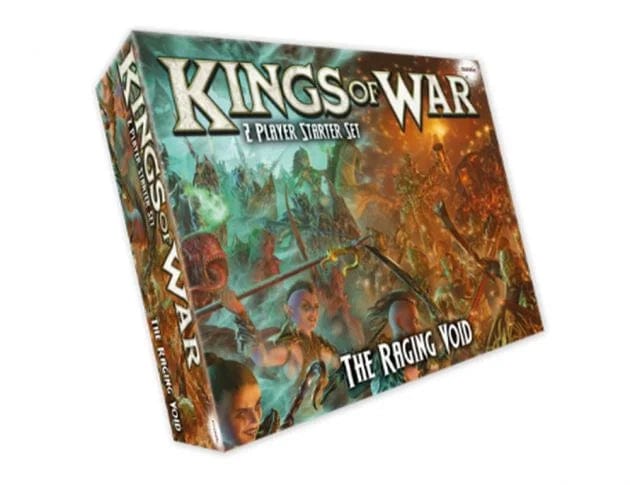 Kings of War The Raging Void TK vs Abyssal Dwarfs 2-Player Set
Regular price
£90.00
Sale price
£76.99
Save £13.01
/
Tax included.
Shipping
calculated at checkout.
---
Take to the battlefields of Pannithor, where you'll command vast fantasy armies to victory in all out war!
Kings of War is the awesome fantasy mass-battle wargame. Rally your forces and fight in the rich and ever-growing fantasy world of Pannithor.
Contents:
1x Rulebook
1x The Raging Void Starter Guide
4x Abyssal Dwarf Infantry Sprue
1x PVC Lesser Obsidian Golemss
1x Resin Overmaster
4x Corsair Sprue
4x Voidtouched Sprue
1x Impalers Sprue
1x Mounted Summoner Crone
4x 100x80mm MDF Base
1x 150x50mm MDF Base
1x 120x40mm MDF Base
1x MEDF Cavalry MDF Base1x 20mm Square Base Sprue
Please Note:
Miniatures are supplied unpainted and some assembly will be required.
Printed materials is supplied in English.
We offer a click & collect/ collect in store option from our Leeds store.
To use it simply select the pick up option on the checkout.
If you forget to do this and are given postage options click the return to information button to go back and select pick up.
Once we have received your order we will pick it and email you to tell you it's ready for collection.
The email will also contain up to date COVID information and opening times.