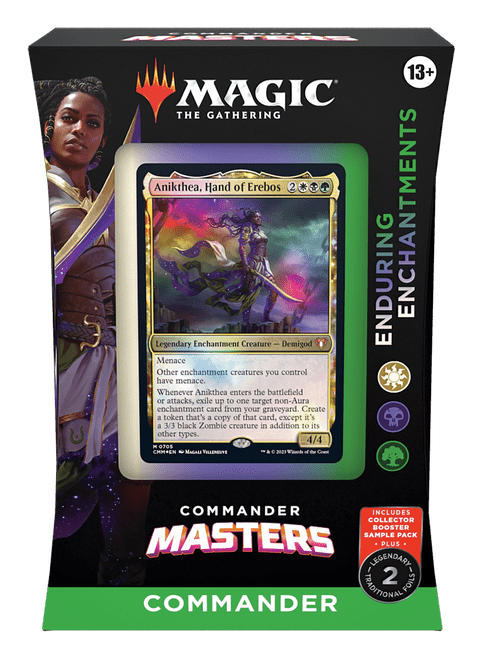 Commander Masters Commander Deck - Enduring Enchantments
Regular price
£72.99
Save £-72.99
/
Tax included.
Shipping
calculated at checkout.
---
The Enduring Enchantments Commander Masters Commander Deck set includes 1 ready-to-play White-Black-Green deck of 100 Magic cards (2 Traditional Foil Legendary Creature cards, 98 nonfoil cards), a 2-card Collector Booster Sample Pack, 1 foil-etched Display Commander (a thick cardstock copy of the commander card with foil etched into the card's border and art), 10 double-sided tokens, 1 deck box (can hold 100 sleeved cards), 1 Life Wheel, 1 strategy insert, and 1 reference card.
• POWERFUL RIGHT OUT OF THE BOX - Take your Commander game to the next level with a high-powered, ready-to-play deck • PLAY WITH COMMANDER'S GREATEST HITS - Turn heads with a deck stacked with reprints of some of the greatest cards to grace Magic's most popular format • INTRODUCES 10 COMMANDER CARDS - Each Commander deck also introduces 10 never-before-seen Magic: The Gathering cards
• WHITE-BLACK-GREEN COMMANDER DECK - get the Enduring Enchantments Commander Deck, a White-Black-Green 100-card deck containing 2 Foil Legendary cards and 98 nonfoil cards, and battle your friends in epic, multiplayer games • COLLECT SPECIAL TREATMENT CARDS - Each deck comes with a 2-card Collector Booster Sample Pack containing 2 special treatment cards (1 Rare and 1 Rare or Mythic Rare) from the Commander Masters set • EVERYTHING YOU NEED TO PLAY AND MORE - Each deck also comes with a 2-card Collector Booster Sample Pack, 1 Foil-Etched Display Commander, 10 double-sided tokens, 1 Helper card, 1 life tracker, and 1 deck box
We offer a click & collect/ collect in store option from our Leeds store.
To use it simply select the pick up option on the checkout.
If you forget to do this and are given postage options click the return to information button to go back and select pick up.
Once we have received your order we will pick it and email you to tell you it's ready for collection.
The email will also contain up to date COVID information and opening times.