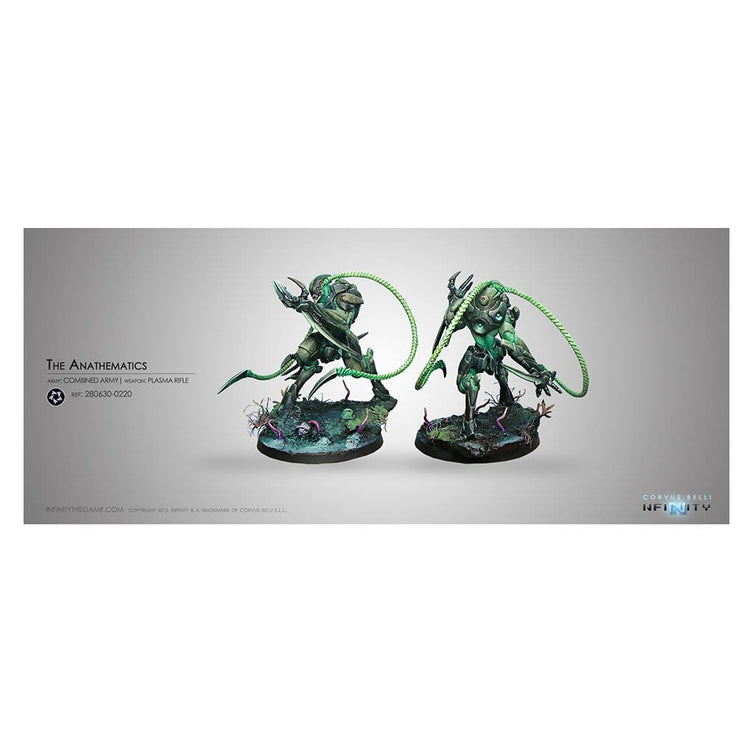 The Anathematics (Plasma Rifle)
Regular price
£30.45
Sale price
£27.99
Save £2.46
/
Tax included.
Shipping
calculated at checkout.
---
The Anathematics Information
The Anathematics are Charontids comprehensively modified with concealment devices and advanced camouflage systems. They could be defined as a worst nightmare come true for any line soldier - inflexible warriors with stony hearts and shady souls. They are the finest soldiers of the Combined Army's Heavy Infantry, and one of the favorite receptacles for the EI's Aspects, as they are well trained and better equipped. Their armor is made up of heat and electromagnetic signal neutralizers, environmental mimetics, light absorption cells, and encrypted communication devices. On the battlefield they work as an offensive vanguard for invasion forces, becoming the eyes of the command center and its main arm of execution. In this way, the style of combat developed by the Anathematics is that of a professional marauder, based on stealthy approach, swift assaults and fast disappearance. The Anathematics are the EI's executioners in all respects. In the Combined Army itself they are feared and hated, but only in secret.
Blister with:
1x ANATHEMATIC (Plasma Rifle)
Combined Army
The Evolved Intelligence, an alien AI with a vast wealth of knowledge and a cold, relentless will, has conquered, subjugated and annihilated entire civilizations to fulfill its ultimate ambition: Transcendence unto a higher evolutionary plane. To that end, the EI has created a well-honed instrument of conquest: the Combined Army. In it, the AI has gathered some of the most dangerous species from its cosmic domains: the viciously brutal Morat, bred for war and war only; the insidious, sly Shasvastii, capable of anything to guarantee the survival of their species; the Sygmaa Trihedron, race traitors, biotech virtuosos, death dealers. Headed by combat incarnations of the EI itself, they are the most formidable war machine this galaxy has ever witnessed. Now they have set their sights on the Human Sphere...
We offer a click & collect/ collect in store option from our Leeds store.
To use it simply select the pick up option on the checkout.
If you forget to do this and are given postage options click the return to information button to go back and select pick up.
Once we have received your order we will pick it and email you to tell you it's ready for collection.
The email will also contain up to date COVID information and opening times.